Meditation is magic
Gain (some) calm and clarity amidst whatever sh*t is going.
Join Stallion and Dragon as they learn from Rabbi Brian.
An effective, fun approach to learning meditation and mindfulness.
Rabbi Brian Is your REASONABLE & FUN MINDFULNESS AND MEDITATION companion
Learn the basics of meditation and mindfulness from the kind and fertile mind of Rabbi Brian of Religion Outside The Box
Portland Rabbi's Releases New (Not-Boring) Meditation Book for Would-Be Meditators
The not-boring, graphic-novel style book shares skills for remaining calm and focused in a global pandemic and beyond.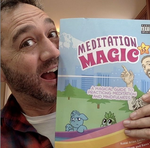 [Portland, Ore] April 6, 2020 – Quarantine, self-isolation, wall-to-wall media coverage, working (and schooling) from home… The COVID-19 pandemic is certainly taking a toll on our mental well-being. Meditation is Magic, from Portland Rabbi Brian Zachary Mayer, makes meditation and mindfulness – a must in this crazy time – easy, accessible and fun.
The comic-book-esque, graphic-novel style how-to avoids jargon and woo-woo spiritual fluff. It follows two characters, Dragon and Stallion, as they learn mindfulness and meditation from a shape-shifting Rabbi who appears as everyone from Warhol to Mr. Rogers and from Yoda to Richard Simmons.
The oversized, full color book complete with prizes at the back was designed as an on-ramp for first-time, teen, and would-be ADHD meditators. (The rabbi includes instructions on using this book for parent-teen and just adult book clubs.)
"Meditation is boring," says Mayer. "There's no way around that. And I've seen too many people needlessly get stuck in lifeless instructions Learning how to meditate shouldn't be boring or hard to do. And in our hectic, noisy lives, we need to be able to sit still."
The bottom line, says Mayer? Just f*cking sit there. #JFST
Meditation is Magic takes the "am I doing this wrong?" out of the meditation learning equation. Meditation is Magic is available via Amazon, Barnes & Noble and ROTB.org.
BeCause you can only control so much
Enjoyed by 1,000's of people. 40/52 weeks a year.
The side-of-the-road experience We are engaged, not yet married. Her white Honda civic climbs the pass between the Angeles National and San Bernardino National Forests. Making our way to a weekend in Las Vegas. And then. Something feels wrong....
read more
Freedom My virtual coffee-chat friend says, "I'm not in charge of the universe." As she and I can't meet in person, we are having an old-fashioned phone call, not a Zoom. An outside-the-box rabbi and a brilliant, retired, Episcopal priest. I continue the Sisyphean...
read more